Recent and latest events of the Società di Danza
---
Last update: May, 4, 2018
---

Some recent events of the Società di Danza
go to: next events - realized events



Training Course for Teachers
of Società di Danza
Year 2017-2018


---

Cycle of stages - Calendar

24 September 2017
Bologna

15 October 2017
Bologna

19 November 2017
Stezzano (Bg)

26 November 2017
Firenze

10 December 2017
Bologna

7 January 2018
Bologna

4 February 2018
Bologna

4 March 2018
Bologna

22 April 2018
Bologna

---

Info: info@societadidanza.it








Grand Ball
Friday 28 July 2017



---



Scottish Dance Evening
Wednesday 26 July 2017





---

Information: info@societadidanza.it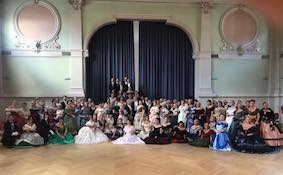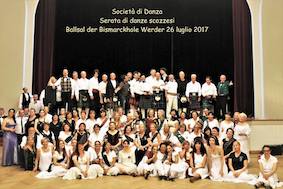 Training school for teachers of the Società di Danza
VII edition

---

Three years course with monthly stages open to dancers of advanced level
New teachers have completed the 7th edition of the Training School
for teachers of the Società di Danza.
25/9 and 9/10/2016 Modena, 29-30/10/2016 Firenze (National Meeting),
13/11/2016 Stezzano (Bg), 4/12/2016 Firenze, 8/1/2017 Modena,
5/2/2017 Modena, 5/3/2017 Bologna, 2/4/2017 Modena

---

Next course will start in September.
Information: info@societadidanza.it





---

New Year Gran Ball 2017


---

Palazzo Re Enzo, Salone del Podestà
1 January 2017



In the largest existing historic salon in Italy,
We realize the classic 19th Century Grand Ball
to celebrate the New Year
Live music performed by Orchestra Carisch
in collaboration with three Onlus AGEOP, AIL and AIDO


---

For information: info@societadidanza.it



Società di Danza National Meeting

Firenze, Limonaia di Villa Strozzi
29-30 October 2016


---

Theoretical-practical seminars and stage
'Group dances and couple dances in Europe,
United States and Russia in 19th century'
'Ball dress for lady and gentleman in 19th century'
'Ball etiquette in 19th century' Festa 25th Anniversary
Organized together with Quartiere 4, Comune di Firenze

---

Further information - Info: info@societadidanza.it

Società di Danza relized in Bologna
New Year Grand Ball 2016
Palazzo Re Enzo, Salone del Podestà
1 January 2016

in collaboration with
AGEOP (Assistence to the children of Pediatric Oncology) and
AIL (Italian Association against leukemia)
Patronage Comune di Bologna, Regione Emilia Romagna

---

Information: info@societadidanza.it



Dancing Mozart - Danzare Mozart
Sunday 28 February 2016 and 25 October 2015, h. 10.00-13.30
Palazzo Grassi, via Marsala 12, Bologna
Two seminars on the sociel dance of XVIII century
Stage of social dance at the time of Mozart
Contradance, Allemande, Minuet
Limited number of participants. Reservation is needed.



---

Information: info@societadidanza.it





Training course for teachers
of Società di Danza


---

Calendar

20 September 2015
Modena

11 October 2015
Modena

31 October 1 November 2015
Firenze - national meeting

15 November 2015
Roma

6 December 2015
Firenze

10 January 2016
Modena

14 February 2016
Stezzano (Bg)

6 March 2016
Bologna

17 April 2016
Modena

---

Informationi: info@societadidanza.it


Società di Danza

---

III Società di Danza
National Meeting
31 October - 1 November 2015
Villa del Poggio Imperiale, Firenze

---

The national event of
Società di Danza edition 2015
will be in Florence inthe historical Villa di Poggio Imperiale

---

Theoretical-practical seminars
'Social dance in Italy in 19th century'
The 19th century ball dress for ladies and gentlemen
Hairstyle dance in 19th century

---

Grand Ball Risorgimentale
for 'Firenze Capitale'

Patronage Comune di Firenze
in the program of Firenze Capitale 1865-2015


---

Dance Summer 2014


Russian Società di Danza School
and Dance and Holiday



---

July-August 2014
Villa Massimo
Gulf of Tindari, Patti (Me), Sicily

---

Detailed information
Video Villa Massimo

19th Summer School
Stage Intermediate Level , 26/7-2/8
Teacher's Stage , 23-30/8

Stage Russian Società di Danza, 19-26/7

Dance and Holiday:
28/6-5/7 (Opening), 5-12/7, 12-19/7, 2-9/8,
16-23/8, 30/8-6/9, 6-13/9
Holiday and Dance
in Salento - 19-26 July 2014
Castello De Viti de Marco
Casamassella - Otranto (Lecce)

---

23.7 Scottish Party
24.7 Dinner and 19th century dance
25.7 19th century dance Grand Ball



Training school for teachers of the Società di Danza - VI edition
---
Three years course with monthly stages open to dancers of advanced level
New teachers have completed the 6th edition of the Training School
for teachers of the Società di Danza. Next course will start in September.
Information: info@societadidanza.it

XXII Easter School

18 - 21 April 2014
Terme di Tabiano (Pr)



Three days of dance in the Parmesan hills. Dance of 19th century and Scottish country dance.

---
Società di Danza

AN IDEA OF DANCE
(UNA IDEA DI DANZA) - Film


---

Film produced by the Società di Danza to tell, with images, ideas and the work of the study and dissemination of its system of nineteenth-century dance: the lessons, the dancing, the system, the ideas, motivations, the Grand Ball Ottocentesco. Directed and screenplay by Fabio Mòllica.
Information: info@societadidanza.it

Stage for advanced dancers and teachers
---
Special seminars for advanced dancers and for teacher training
Salsomaggiore 2/11/2013 - Stezzano 24/11/2013 - Roma 1/12/2013, 19/1/2014,
Stezzano 26/1/2014, Modena 2/2/2014, Firenze 16/2/2014
I Meeting - Società di Danza
Salsomaggiore Terme, 1-3 November 2013

---

Programma

1 November:

2 November:

3 November:


h. 15-19: Stage
h. 21 Theoretical seminar

h. 9-12.30 - 15-18.30 Stage
h. 21.30 Fashion show of 19th century dress
h. 9.30 Film show "Un'Idea di Danza" and Backstage Film
h. 15.00 National Party Società di Danza

---

Further information
Holiday and Dance
in Salento, Apulia
24-31 August 2013
Torre Vado, Morciano di Leuca (Le)
A week of sea and holiday
and events of
19th century dance and Scottish dance


---

27.8 Scottish Party
30.8 19th century Grand Ball


Società di Danza
18th Summer School
4 - 7 July 2013
Maiori - Amalfi coast (Sa)
Director: Fabio Mòllica



Stage of Social dance of European tradition
Three days of dance and holiday on the Amalfi coast.
Lessons in the late afternoon, dancing evening and a Grand Ball in Maiori.
Società di Danza


The streets of the Prince of Salina
The Grand Balls of 'Il Gattopardo'
Palermo
25 April - 1 May 2013
The discovery of the Nineteenth Century Palermo
and places that animated the culture of the novel 'Il Gattopardo' ('The Leopard') by Tomasi di Lampedusa
Two 19th century Grans Balls of Società di Danza in the historical halls of Palermo
21th Easter School
29 March - 1 April 2013, Terme di Tabiano (Pr)
Direction: Fabio Mòllica

Three days of dance study and community life
in the nature of the Parmesan hills. Dance classes, seminars and dancing evenings.
Classes organized in three levels.
19th century social dance: quadrille, waltz, mazurka, polka and Scottish country dance.
The teacher staff includes the guest teacher Helen Russell of the Royal Scottish Country Dance.
Classes and seminars in the morning and afternoon, evenings devoted to parties.
See the page for the news

---

Social dance of 19th century tradition
waltz, quadrille, polka, mazurka and Scottish country dance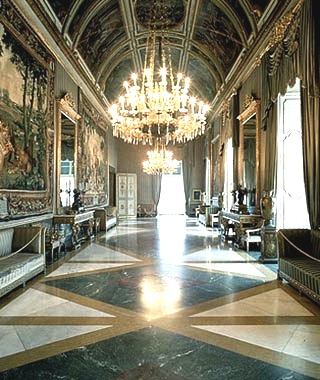 Societ&agrave di Danza

Napoli

Grand Ball
Palazzo Reale di Napoli
2 November 2012, h. 15-18
Sala Diplomatica
Palazzo Reale di Napoli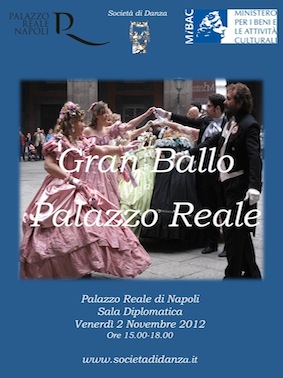 Holiday and Dance
Grand Balls in Salento
25/8 - 1/9/2012, S. Cesarea Terme (Le)
27.8: Scottish Party
Grand Ball: 29.8: Villa Tamborino, Maglie
31.8: Castello di Corigliano d'Otranto
---

Società di Danza



Holiday and Dance - Loira Castles
Grand Balls
4 - 11 August 2012
A week of Holiday and Balls in the Loira Valley.
Visit to the most beutiful French castles
and dance in the courtyards and historic squares.
19th century Grand Balls and dancing evening

---




5/8 Grand Ball at Valencay Castle



8/9 Social Dancing evening in Tours



9/8 Grand Ball at Amboise Castle


---



Società di Danza




National 19th Century Grand Ball
Saturday 19 May 2012
Ferrara, Piazza del Municipio
h. 18.30

Società di Danza


Dance in Saint Petersburg

25/4 - 1/5/2012
A journey in space and time
to discover some aspects of the 19th century culture
in one of the best world capitals
and to meet new dancing friends.

---


30.4 19th century Grand Ball
28.4 Scottish Ball
Società di Danza


20th Easter School
6 - 9 April 2012
Sestola (Modena)
Three days of dance in the natural park
of the Emilian Apennines with dance, seminars amd dancing evenings.

Social dances of 19th Century tradition: waltz, quadrilles, polka, mazurka and Scottish country dance

Bologna
Anniversary Party
of Società di Danza

Sunday 13 November 2011, h. 15-19
Savoia Hotel Regency
via del Pilastro 2, Bologna

---

for the twenty years of
Società di Danza
1991 - 2011
Società di Danza


Holiday and Dance
Grand Balls in Salento
20-27 August 2011, Borgo Cardigliano (Le)
22.8: S. Cesarea Terme, 24.8: Palazzo Risolo, Specchia
26.8: Grand Ball Risorgimentale, Lecce
Società di Danza


Budapest
Grand Ball Risorgimentale in Budapest
1-8 August 2010

2.8: Grand Ball Risorgimentale
5.8: Scottish Grand Ball
6.8: Grand Ball Risorgimentale
Società di Danza


XIX Easter School
April, 22 - 25, 2011
Sestola (Modena)
Three days of dance in the natural park
of the Emilian Apennines with dance and social events.
Social dances of XIX Century tradition: waltz, quadrilles, polka, mazurka and Scottish country dance

Bologna
1 January 2011
Salone del Podestà, Palazzo Re Enzo

Società di Danza


Praga
Gran Ballo Risorgimentale in Prague
29 October - 1 November 2010
Sunday 31 October: Gran Ballo Risorgimentale
Hlahol, close to the National Theater
Friday 29 and Saturday 30 October: dancing evenings, Tyrsuv Dum



Gran Ballo Risorgimentale
at Villa Torlonia

Rome
Sunday, 19 September 2010
h. 11-18
Villa Torlonia

Società di Danza


London
Victorian Grand Ball
1 - 4 July 2010
Friday 2.7 Scottish Summer Dance - Chiswick Town Hall
Saturday 3.7 Victorian Grand Ball - Fulham Town Hall

foto: Garrick Maguire
Società di Danza


XVIII Seminario Pasquale
2 - 5 April 2010
Busana (Reggio Emila)
Three days of dance in the natural park of the Emilian Apennines with dance and social events.
Social dances of XIX Century tradition: Waltz, quadrilles, polka, mazurka and Scottish country dance

photo: Garrick Maguire
Gran Ballo Risorgimentale
Palazzo Ducale - Accademia Militare
Salone d'Onore
Modena, 5 February 2010




XIV Summer School 2009
Gran Ballo Romantico - II edizione
dei Castelli di Ludwig, Füssen, Bavaria
July, 25 - August, 2, 2009
Social dance of European tradition
Waltz, quadrilles, polka, mazurka and Scottish country dance
Romantic Gran Ball

---

Information: info@societadidanza.it

| | | |
| --- | --- | --- |
| foto: Benny Benevento - Comune di Modena | | photo: Benny Benevento - Comune di Modena |
---
---
email : info@societadidanza.it